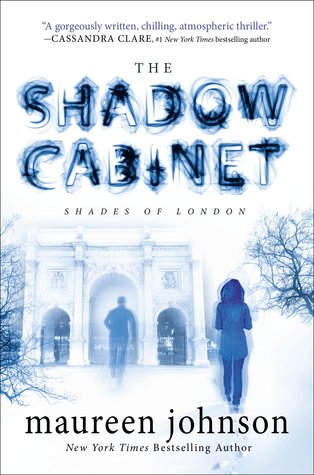 Title: The Shadow Cabinet (Shades Book 3)
Author: Maureen Johnson
Publisher: G.P. Putnam's Sons Books for Young Readers
Length: 385, Hardback
Genre: Young Adult, Paranormal, fantasy, mystery
Rating: 4 Folded Pages
Warning: Spoilers in the blurb.
Book 1: The Name of the Star Review | Book 2: The Madness Underneath Review
Blurb:
Rory and her friends are reeling from a series of sudden and tragic events. While racked with grief, Rory tries to determine if she acted in time to save a member of the squad. If she did, how do you find a ghost? Also, Rory's classmate Charlotte has been kidnapped by Jane and her nefarious organization. Evidence is uncovered of a forty-year-old cult, ten missing teenagers, and a likely mass murder. Everything indicates that Charlotte's in danger, and it seems that something much bigger and much more terrible is coming.
Time is running out as Rory fights to find her friends and the ghost squad struggles to stop Jane from unleashing her spectral nightmare on the entire city. In the process, they'll discover the existence of an organization that underpins London itself—and Rory will learn that someone she trusts has been keeping a tremendous secret.
Review:
As much as I loved The Name of the Star I can't say that the second book or this lived up to how much I loved the first one. I think both of them had sequel syndrome.
I enjoyed the overall plot but I found Rory's personality to be kind of annoying instead of fun. Don't get me wrong, I still really enjoyed this book. It just was a bit slower and not as good as I had hoped.
I can't say much else without spoiling the plot of this book and the first two. I will say that so far I enjoy the series as a whole and can't wait to get my hands on the prequel.