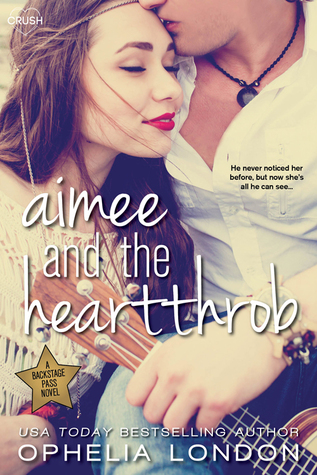 Title: Aimee and the Heartthrob
Author: Ophelia London
Publisher: Macmillian
Length: 260, Kindle Book
Genre: Romance, contemporary, young adult
Rating: 3.5 Folded Pages
Blurb:
He never noticed her before, but now she's all he can see…
Miles Carlisle is every teen girl's fantasy. His rugged good looks and exotic British accent have helped catapult his boy band, Seconds to Juliet, to super-stardom. But after two disastrous and very public breakups, Miles isn't interested in dating just any girl; he wants The One. And the only girl he's interested in is not only his best friend's little sister–and off-limits–but won't even give him the time of day…
As a kid, Aimee Bingham had a huge thing for Miles…until he made fun of her for always tagging along. Now that she's outgrown both him and her pigtails, the prospect of spending two weeks on tour with the childhood crush who broke her heart isn't exactly enticing. Except now Miles seems interested.Very interested. And no matter how hard Aimee tries to resist him, her crush is definitely making a comeback.
But everyone knows that falling for a heartthrob is a backstage pass to heartbreak…
Review:
I have mixed feelings about this book. Some parts I really enjoyed and other parts had me rolling my eyes and skimming the pages until it got good again.
I really enjoyed the first 100 pages or so. It was cute and I enjoyed how true to character Aimee stayed. Even around Miles she tried her hardest not to let her old feelings resurface instead of succumbing to them like what happens in similar books.
However, I think this book switched from young adult to new adult and back. Sometimes it felt like they were early 20 year olds and not 16-17. I didn't enjoy that. There's a line there that shouldn't be crossed sometimes and the parts that felt new adult were a bit too sexual.
I do think the romance was super cute. It was just the kind of swoony and cheesiness that I want and expect in YA romance contemporary novels. Even if it sometimes felt a little too mature for the ages of the characters.
I'll probably pick up the rest of the books in this series just because I'm curious to see what happens to the other band members.