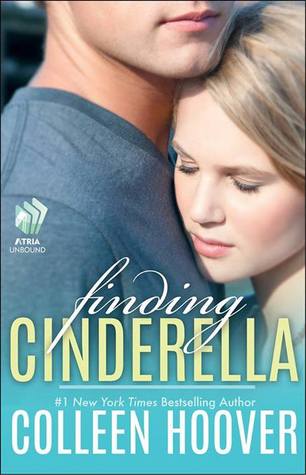 Title: Finding Cinderella
Author: Colleen Hoover
Publisher: Atria Books
Length: 176, Kindle book
Genre: Romance
Rating: 4.5 Folded Pages
Blurb:
A chance encounter in the dark leads eighteen-year-old Daniel and the girl who stumbles across him to profess their love for each other. But this love has conditions: they agree it will only last one hour and it will only be make-believe.
When their hour is up and the girl rushes off like Cinderella, Daniel tries to convince himself that what happened between them only seemed perfect because they were pretending it was perfect. Moments like that with girls like her don't happen outside of fairytales.
One year and one bad relationship later, his disbelief in insta-love is stripped away the day he meets Six: a girl with a strange name and an even stranger personality. But Daniel soon realizes that fairytales don't exist, and unfortunately for Daniel, finding Cinderella doesn't guarantee their happily ever after…it only further threatens it.
Review:
I've been hearing a lot of mixed things about CoHo books. Some absolutely love them and others just don't. I wanted to decide for myself without investing much because honestly my TBR is getting way too big. So when I saw this novella by Hoover for free on Kindle I figured it wouldn't hurt to grab it. Thankfully, I wasn't disappointed in the least.
Finding Cinderella was so engaging I had the hardest time forcing myself to stop reading. It was cute and heartbreaking. I was a little skeptical of whether or not the novella would be good. Some people can write novella's and some people can't it's the same with short stories but Hoover pulled it off brilliantly.
I loved the characters. I definitely have known a few Daniel-esque guys and I enjoyed that Hoover writes believable characters and scenarios (for the most part lol). This novella makes me excited to pick up other CoHo books (from the library because I am officially on a book buying ban just fyi more info in my haul to come).
I don't read a lot of novella's simply because there aren't many that I come across. I'm glad I somehow found my way to this one though. I see what everyone means when they say CoHo writes beautifully even if they don't enjoy her books. Her writing is masterful and so easy to read that it's hard to remember you are reading.
CoHo definitely has me wanting more so I can't wait to order her books at my library.