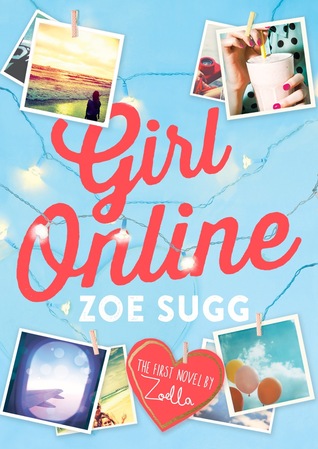 Title: Girl Online
Author: Zoe Sugg (Zoellaaaaaa)
Publisher: Atria/Keyword Press
Length: 352, Hardback
Genre: Contemporary, Young Adult, Romance
Rating: 3 Folded Pages
Blurb:
I have this dream that, secretly, all teenage girls feel exactly like me. And maybe one day, when we realize that we all feel the same, we can all stop pretending we're something we're not. That would be awesome. But until that day, I'm going to keep it real on this blog and keep it unreal in "real" life.
Penny has a secret.
Under the alias GirlOnline, Penny blogs her hidden feelings about friendship, boys, high school drama, her quirky family, and the panic attacks that have begun to take over her life. When things go from bad to worse at school, her parents accept an opportunity to whisk the family away for Christmas at the Waldorf Astoria in New York City. There, she meets Noah, a gorgeous, guitar-strumming American. Suddenly Penny is falling in love—and capturing every moment she spends with "Brooklyn Boy" on her blog.
But Noah has a secret, too, one that threatens to ruin Penny's cover—and her closest friendship—forever.
Review:
This book was cute. When I saw Zoella from Youtube had written a book I knew I had to have it. I'm not sure what I was expecting but I was slightly disappointed. I think I've reached an age where YA contemporaries are going to be a bit difficult for me.
My biggest issue with this book was how immature Penny seemed to be. She read like she was 12 instead of 16. Maybe it's just my perspective at the ripe age of 22, but I feel like she should have been a little more mature than she was in the book.
My other issue is that her love interest is 18. I'm not sure if this isn't a big deal in England but here it's not really allowed and it made me kind of uncomfortable. The saving grace is that Noah didn't really read like an 18 year old but a 15 year old.
The overall story was cute and for the most part the pacing was good. There were a few slow points that were a little hard to slog through but for the most part I enjoyed reading the novel.
For me this novel was cute but a bit problematic. I bought it because I love Zoella's videos and it's a way I can support her aside from watching said videos. The other thing is that the novel was actually ghost written by Siobhan Curham. Which is fine. I understand the need of ghostwriting and whatnot, but it makes the novel read disjointedly. I'm not sure I'll be picking up the second in the series anytime soon.