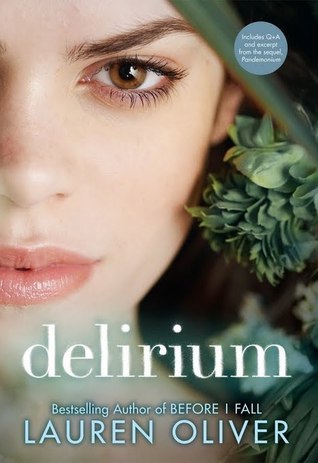 Title: Delirium
Author: Lauren Oliver
Publisher: HarperCollins
Length: 401, Kindle edition
Genre: Young Adult, Dystopian, Romance
Rating: 2.5 Folded Pages
Blurb:
In an alternate United States, love has been declared a dangerous disease, and the government forces everyone who reaches eighteen to have a procedure called the Cure. Living with her aunt, uncle, and cousins in Portland, Maine, Lena Haloway is very much looking forward to being cured and living a safe, predictable life. She watched love destroy her mother and isn't about to make the same mistakes.
But with ninety-five days left until her treatment, Lena meets enigmatic Alex, a boy from the Wilds who lives under the government's radar. What will happen if they do the unthinkable and fall in love?
Review:
I did not love this book. I thought and hoped I would. The first 100 or so pages flew by but after that point it go so incredibly slow that I was legitimately falling asleep at some parts. The book could have been about 150 pages shorter and I would have liked it better. I felt like absolutely nothing happened for at least 150 pages. I understand the need of some of it but for the most part it was just plain boring.
I didn't hate Lena. I think she was a little indecisive and a tad bit annoying but I enjoyed that she tried thinking for herself and not taking everything at face value. However, I do think that she fell a little flat as a character. I also HATED that she only changed because of a boy. Hana, her best friend for years, had no part in the change and she almost stopped being friends with Hana when Hana did try to change her. I just I hate when a guy is the only reason a girl develops. It's just not right and it shows girls they should be dependent on boys and I'm not about that life.
Speaking of Lena's best friend, Hana is the only character in the book I absolutely loved. She understands her limits, is an amazing friend, and is trying to fight the system but knows that she really can't. I just really enjoy her all around.
Alex was kind of eh for me. His lines were cheesy, and he also fell flat for me. Considering he was the main reason for Lena's change, I would have hoped he'd be a bit more 3 dimensional.
I might read the next book in the series if I find it really cheap on kindle or see it in the library but I have no desire to go out of my way to read what happens next even though it did leave off on a pretty solid cliffhanger. I think this is another dystopian book that kind of coasted on the dystopian craze that was going on when it was published.