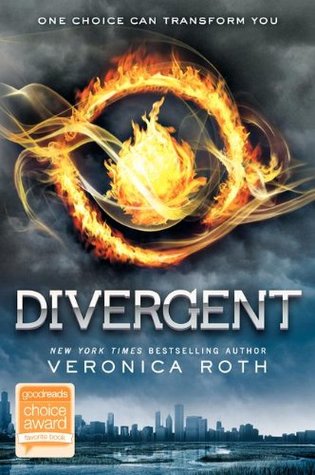 Title: Divergent
Author: Veronica Roth
Publisher: Katherine Tegen Books
Length: 576, Paperback
Genre: Young Adult, Dystopian
Rating: 5 Folded Pages
Blurb:
One choice can transform you. Beatrice Prior's society is divided into five factions—Candor (the honest), Abnegation (the selfless), Dauntless (the brave), Amity (the peaceful), and Erudite (the intelligent). Beatrice must choose between staying with her Abnegation family and transferring factions. Her choice will shock her community and herself. But the newly christened Tris also has a secret, one she's determined to keep hidden, because in this world, what makes you different makes you dangerous.
Review:
This is the kind of book that reminds me why I loved YA dystopian so much in high school. I enjoyed every second of reading it which is why I finished it in two days. It was paced perfectly, the romance was kind of insta love but not cheesy and it took second place to the plot, and Tris is as badass as I could want in a female heroine while still remaining original.
I truly loved how fast paced this plot was. I needed a book like this to pull me from the reading slump I was sinking into for sure. It kept me interested and I didn't want to put it down. There were no slow points (for me) and it reminded me why dystopian is such a great genre.
The characters were also felt very real. Tris was flawed and it showed on almost every page and I love that. She was badass but she could be hot blooded and she had a hard time not standing up for herself and doing what she wanted even if that could put her in danger. I enjoyed every second of her narration.
Four did fall a little flat at times but I enjoyed that he wasn't a big focus for the book even if there was instalove there. It worked for me. I can enjoy instalove if it's not the main focus of the book and here the plot was definitely more important than the romance.
The side characters all felt very fleshed out as well. I understood their reasons for acting out of character and they responded and acted like real people. Which is to say, they didn't have 4 characteristics in total. They seemed completely fleshed out.
If it's not obvious by the amazing rating, I really enjoyed this book. I understand why it was hyped and I'm glad I went into with my expectations a little lower because the hype has fled from it. I'm not sure I would have enjoyed it as much but I thoroughly loved this!