Small update about me: Thanks for all the well wishes! I'm feeling much better and to help make up for not posting anything this past week I'm publishing this today. The regular update schedule will be back next week. 😀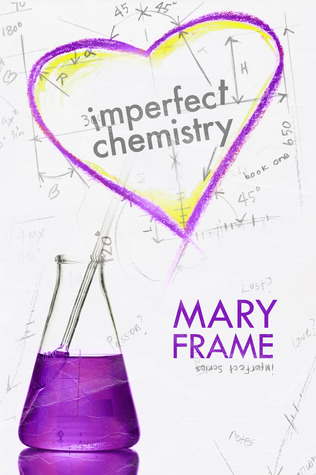 Title: Imperfect Chemistry
Author: Mary Frame
Publisher: CreateSpace Independent Publishing Platform
Length: 198, Kindle Book
Genre: New Adult, Romance
Rating: 4.5
Blurb:
Lucy London puts the word genius to shame. Having obtained her PhD in microbiology by the age of twenty, she's amassed a wealth of knowledge, but one subject still eludes her—people. The pendulum of passions experienced by those around her both confuses and intrigues her, so when she's offered a grant to study emotion as a pathogen, she jumps on the opportunity.
When her attempts to come up with an actual experiment quickly drop from lackluster to nonexistent, she's given a choice: figure out how to conduct a groundbreaking study on passion, or lose both the grant and her position at the university. Put on leave until she can crack the perfect proposal, she finds there's only one way she can study emotions: by experiencing them herself.
Enter Jensen Walker, Lucy's neighbor and the one person on the planet she finds strangely and maddeningly appealing. Jensen's life is the stuff of campus legend, messy, emotional, complicated—in short, the perfect starting point for Lucy's study. When her tenaciousness wears him down and he consents to help her, sparks fly. To her surprise, Lucy finds herself battling with her own emotions, as foreign as they are intense. With the clock ticking on her deadline, Lucy must decide what's more important: analyzing her passions…or giving in to them?
Review:
I LOVED this book. I heard of it because of Duchess at Duchess Reading and I'm so glad I read her review on it. It was such a light and easy read.
Lucy was such an interesting character. I loved how logical she was about falling in love. I also love how she made friends. She was super intriguing to read. My only qualm is that her character kind of changed toward the end and I think it may have been a bit too big of a leap.
Freya is an amazing side character along with the slew of friends she brings with her. Jensen was a mystery, which was both a good and bad thing. I think he went from mysterious to open book way too quickly.
As for a new adult novel, it didn't get nearly as graphic as I was sort of expecting. It was refreshing since the romance seemed to be less about physical attraction and more about attraction to the other's personality.