So it's come to my attention that just because I'm excited for books doesn't mean I will necessarily bother to buy or get the book from the library. That being said, I like this series so I will continue to do it even though it feels like a waste. lol. Enjoy!
#5 A Talent for Trickery by Alissa Johnson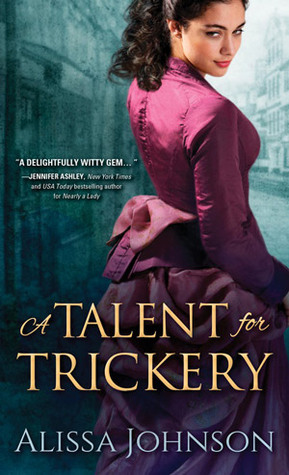 Expected Publication: November 3rd
Summary (Via Goodreads):
The Lady is a Thief
Years ago, Owen Renderwell earned acclaim—and a title—for the dashing rescue of a kidnapped duchess. But only a select few knew that Scotland Yard's most famous detective was working alongside London's most infamous thief…and his criminally brilliant daughter, Charlotte Walker.
Lottie was like no other woman in Victorian England. She challenged him. She dazzled him. She questioned everything he believed and everything he was, and he has never wanted anyone more. And then he lost her.
Now a private detective on the trail of a murderer, Owen has stormed back into Lottie's life. She knows that no matter what they may pretend, he will always be a man of the law and she a criminal. Yet whenever he's near, Owen has a way of making things complicated…and long for a future that can never be theirs
Thoughts:
Honestly, the blurb isn't very good. It's all over the place and it doesn't seem to tell you what it's really about. But, the reviews on Goodreads seem promising and this cover is gorgeous. I know I shouldn't judge a book by it's cover but I can't help it.
#4 The Lies About Truth by Courtney C. Stevens
Expected Publication: November 3rd
Summary (Via Goodreads):
Sadie Kingston, is a girl living in the aftermath. A year after surviving a car accident that killed her friend Trent and left her body and face scarred, she can't move forward. The only person who seems to understand her is Trent's brother, Max.
As Sadie begins to fall for Max, she's unsure if she is truly healed enough to be with him — even if Max is able to look at her scars and not shy away. But when the truth about the accident and subsequent events comes to light, Sadie has to decide if she can embrace the future or if she'll always be trapped in the past.
Thoughts:
I've heard some really great things about this novel. Also, I've been really feeling contemporaries recently so I'm excited to maybe get this from the library. Also this cover is gorgeous. I will probably end up buying it if the paperback is the same.
#3 November 9 by Colleen Hoover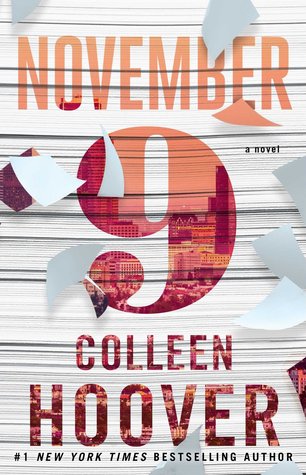 Expected Publication: November 10th
Summary (Via Goodreads):
Beloved #1 New York Times bestselling author Colleen Hoover returns with an unforgettable love story between a writer and his unexpected muse.
Fallon meets Ben, an aspiring novelist, the day of her scheduled cross-country move. Their untimely attraction leads them to spend Fallon's last day in L.A. together, and her eventful life becomes the creative inspiration Ben has always sought for his novel. Over time and amidst the various relationships and tribulations of their own separate lives, they continue to meet on the same date every year. Until one day Fallon becomes unsure if Ben has been telling her the truth or fabricating a perfect reality for the sake of the ultimate plot twist.
Thoughts:
I've only ever read a small novella by Hoover but this book sounds SO interesting. It'll be fun to see how she does a plot twist when you know a plot twist is probably coming. Also, I'm already interested in the relationship between the characters and exactly how it will play out.
#2 Half Truths by Sally Green
Expected Publication: November 3rd
Summary (Via Goodreads):
Half Truths follows Gabriel's story from the time he arrives Switzerland, seeking help in recovering his magical powers from the conniving Black Witch Mercury, and goes up until the moment when he first meets Nathan and their paths become forever intertwined.
For the new reader, this is the perfect bite-sized introduction to the world of Half Bad, where witches and humans live alongside one another. And for the returning reader, this story sheds new light on one of the trilogy's most beloved characters.
Thoughts:
Anyone who has read my reviews of the first two books in this series (Half Bad and Half Wild) knows that these books have completely taken me. I CAN'T WAIT until the third book comes out but hopefully this novella will help to tide me over. 🙂
#1 Winter (The Lunar Chronicles #4) by Marissa Meyer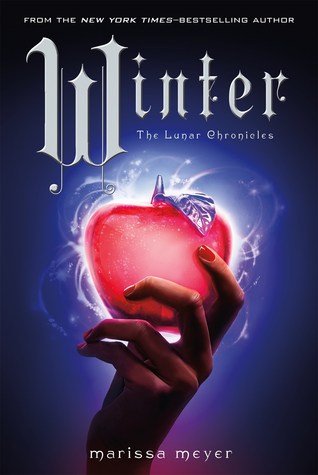 Expected Publication: November 10th
Summary (Via Goodreads):

Princess Winter is admired by the Lunar people for her grace and kindness, and despite the scars that mar her face, her beauty is said to be even more breathtaking than that of her stepmother, Queen Levana.
Winter despises her stepmother, and knows Levana won't approve of her feelings for her childhood friend–the handsome palace guard, Jacin. But Winter isn't as weak as Levana believes her to be and she's been undermining her stepmother's wishes for years. Together with the cyborg mechanic, Cinder, and her allies, Winter might even have the power to launch a revolution and win a war that's been raging for far too long.
Can Cinder, Scarlet, Cress, and Winter defeat Levana and find their happily ever afters?
Thoughts: 
I mean, do I even have to say why I'm super duper excited for this? This is the only book this year I've been constantly thinking about and I *almost* wish I liked hardbacks just so I would be able to buy this right away but alas I will wait for the paperback before buying and just get it from my library.