It's funny that I do this series because I didn't read any of the books on it last month. I will eventually but they haven't come to my library and I wasn't into any of them enough to suffer buying a hardcover. That being said I might just suffer buying hardcover for a few of the books on this month's list.
#5 The Appearance of Annie van Sinderen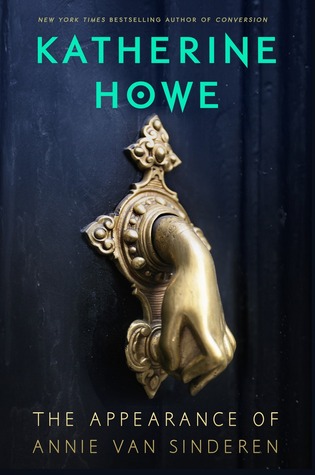 Expected Publication: September 15th
Summary (Via Goodreads):
A haunting, contemporary love story from the New York Timesbestselling author of Conversion
It's summertime in New York City, and aspiring filmmaker Wes Auckerman has just arrived to start his summer term at NYU. While shooting a séance at a psychic's in the East Village, he meets a mysterious, intoxicatingly beautiful girl named Annie.
As they start spending time together, Wes finds himself falling for her, drawn to her rose petal lips and her entrancing glow. But there's something about her that he can't put his finger on that makes him wonder about this intriguing hipster girl from the Village. Why does she use such strange slang? Why does she always seem so reserved and distant? And, most importantly, why does he only seem to run into her on one block near the Bowery? Annie's hiding something, a dark secret from her past that may be the answer to all of Wes's questions . . .
Thoughts:
This book's summary has me completely hooked. I think I might even ask my library to buy it. Something I don't typically do because my library is super tiny so I don't like putting pressure on it. I think it'll be great to read in October for good spooky fun.
#4 Dumplin' by Julie Murphy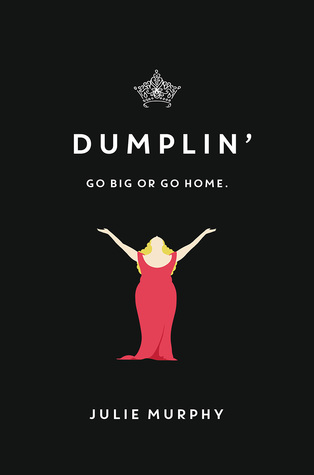 Expected Publication: September 15th
Summary (Via Goodreads):
Self-proclaimed fat girl Willowdean Dickson (dubbed "Dumplin'" by her former beauty queen mom) has always been at home in her own skin. Her thoughts on having the ultimate bikini body? Put a bikini on your body. With her all-American beauty best friend, Ellen, by her side, things have always worked . . . until Will takes a job at Harpy's, the local fast-food joint. There she meets Private School Bo, a hot former jock. Will isn't surprised to find herself attracted to Bo. But she is surprised when he seems to like her back.
Instead of finding new heights of self-assurance in her relationship with Bo, Will starts to doubt herself. So she sets out to take back her confidence by doing the most horrifying thing she can imagine: entering the Miss Clover City beauty pageant—along with several other unlikely candidates—to show the world that she deserves to be up there as much as any twiggy girl does. Along the way, she'll shock the hell out of Clover City—and maybe herself most of all.
With starry Texas nights, red candy suckers, Dolly Parton songs, and a wildly unforgettable heroine— Dumplin' is guaranteed to steal your heart.
Thoughts:
I've had my eye on this since before I did my August top 5 releases. It looks so interesting and the reviews that have been everywhere the past few weeks only confirm me wanting it. I love what it's about and what it represents. This is one of the few I might actually buy in hardcover.
#3 Everything, Everything by Nicola Yoon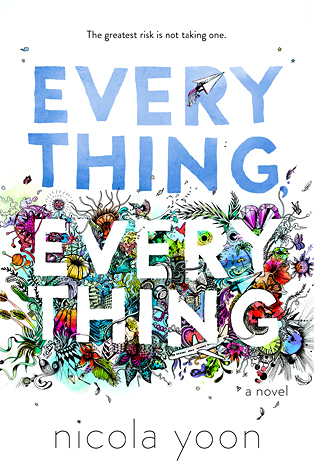 Expected Publication: September 1st
Summary (Via Goodreads):
This innovative, heartfelt debut novel tells the story of a girl who's literally allergic to the outside world. When a new family moves in next door, she begins a complicated romance that challenges everything she's ever known. The narrative unfolds via vignettes, diary entries, texts, charts, lists, illustrations, and more.
My disease is as rare as it is famous. Basically, I'm allergic to the world. I don't leave my house, have not left my house in seventeen years. The only people I ever see are my mom and my nurse, Carla.
But then one day, a moving truck arrives next door. I look out my window, and I see him. He's tall, lean and wearing all black—black T-shirt, black jeans, black sneakers, and a black knit cap that covers his hair completely. He catches me looking and stares at me. I stare right back. His name is Olly.
Maybe we can't predict the future, but we can predict some things. For example, I am certainly going to fall in love with Olly. It's almost certainly going to be a disaster.
Thoughts:
I've been seeing mixed reviews for this but it hasn't stopped me from really wanting to read it. I think the premise is super intriguing and original. I probably won't be buying it but I'm still looking forward to reading it soon and perhaps buying paperback whenever that may come out.
#2 Walk on Earth a Stranger by Rae Carson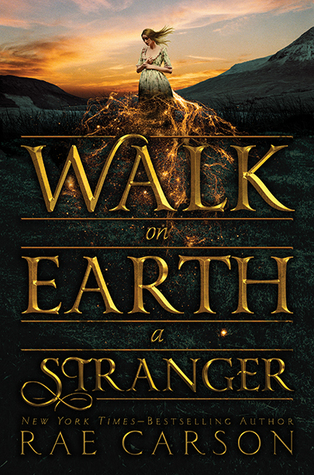 Expected Publication: September 22nd
Summary (Via Goodreads):
The first book in a new trilogy from acclaimed New York Times bestselling author Rae Carson. A young woman with the magical ability to sense the presence of gold must flee her home, taking her on a sweeping and dangerous journey across Gold Rush–era America.
Lee Westfall has a secret. She can sense the presence of gold in the world around her. Veins deep beneath the earth, pebbles in the river, nuggets dug up from the forest floor. The buzz of gold means warmth and life and home—until everything is ripped away by a man who wants to control her. Left with nothing, Lee disguises herself as a boy and takes to the trail across the country. Gold was discovered in California, and where else could such a magical girl find herself, find safety? Rae Carson, author of the acclaimed Girl of Fire and Thorns trilogy, dazzles with this new fantasy that subverts both our own history and familiar fantasy tropes.
Walk on Earth a Stranger, the first book in this new trilogy, introduces—as only Rae Carson can—a strong heroine, a perilous road, a fantastical twist, and a slow-burning romance. Includes a map and author's note on historical research.
Thoughts:
While I've never actually read anything by Rae Carson, I'm super hyped for this book. It's definitely unique and I'm excited to see how she portrays gold rush America. I haven't seen my YA books set in this period and if done well this can be amazing.
#1 Zeros by Scott Westerfeld, Margo Lanagan, and Deborah Biancotti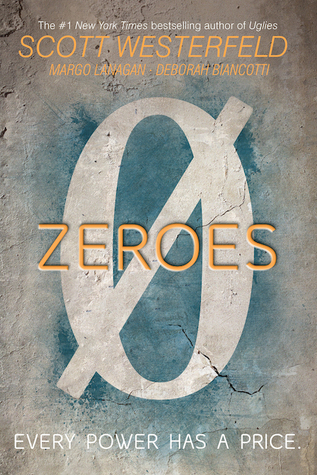 Expected Publication: September 29th
Summary (Via Goodreads):

Ethan, aka "Scam," has a way with words. When he opens his mouth, whatever he wants you to hear comes out. But Ethan isn't just a smooth talker. He has a unique ability to say things he doesn't consciously even know. Sometimes the voice helps, but sometimes it hurts – like now, when the voice has lied and has landed Ethan in a massive mess. So now Ethan needs help. And he needs to go to the last people who would ever want to help him – his former group of friends, the self-named "zeros" who also all possess similarly double-edged abilities, and who are all angry at Ethan for their own respective reasons. Brought back together by Scam's latest mischief, they find themselves entangled in an epic, whirlwind adventure packed with as much interpersonal drama as mind-bending action.
Thoughts: 
To be honest, Scott Westerfeld is almost an automatic buy for me. I have to like the premise but I love everything he's written. I'm hoping this is as good as the summary on Goodreads makes it out to be.